Top EASA executive: Regulation of passenger transport eVTOLs by 202
Patrick Ky, executive director of EASA, expects that it will not be long before the required regulations for passenger transport with manned electric vertical take-off and landing (eVTOLs) are in place. "That will be a reality by 2025 at the latest," said the top executive of the European Union Aviation Safety Agency. "I don't think there will be thousands of these vehicles flying over our heads by 2035. By then, however, it should be possible for individuals to safely travel from Amsterdam to Brussels in half an hour by eVTOLs. Congestion problems will also be reduced by airborne logistics transport by drones."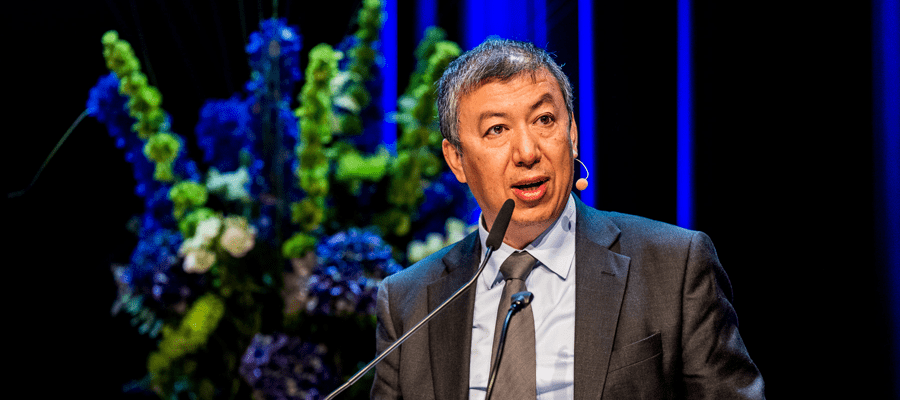 Ky is co-organiser of the lustrum edition of Amsterdam Drone Week (ADW). His association with the international event at RAI Amsterdam dates back to the first edition in 2018. Since then, the European Union Aviation Safety Agency has been closely involved in setting up ADW. This year's event will be held from Tuesday March 21 to Thursday March 23 at RAI Amsterdam.
Opportunities
At the start of ADW in 2018, drones, eVTOLs and the possibilities these vehicles offered were still unknown to the general public. Ky: "It was really something new. That also meant that leading up to the event we had to sound out what the expectations were for this new industry. It makes me proud to see what we have managed to achieve in five years for this industry."
He cites the Drone Strategy 2.0 presented by the European Commission at the end of 2022 as the main achievement in promoting drone development in Europe. "That has been an important milestone, because regulation for a new market structure within the drone market leads to a momentum that ensures an increase of jobs in the sector. The strategic plan is invaluable for the development of innovative air mobility in Europe."
Civil and logistics purposes
Five years ago, drones were mainly used by defense, recalls the top executive. "Back then, no one was talking about using drones for civilian and logistical purposes. The sector as we know it today did not exist at all. The same applied to innovations and the use of new techniques." In 2023, drones will be used for package delivery and medical purposes such as transporting plasma. Passenger transport by eVTOLS is expected to be added in not too long.
The sector's growth into a full-fledged industry coincides with other developments within mobility, according to Ky. "The industry has blossomed. You can't separate that from the innovations that have led to the use of hydrogen as a fuel, but also from the increase in electric and hybrid vehicles. These new technologies have been developed over the past decade, thus creating momentum."
Farewell
The developments surrounding drones will soon continue to attract Ky's attention even after his departure as EASA's top executive. After 10 years, he will soon step down as executive director of the European Union Aviation Safety Agency. Given the innovations of recent years, he expects many more opportunities for the industry. "It is very interesting to follow such developments within this form of mobility. I will therefore continue to do so after my retirement from EASA."
Tickets
For the first time in ADW's five-year existence, a reduced rate applies to Authorities and Governmental bodies: Request your reduced tickets at: https://www.amsterdamdroneweek.com/tickets
---
About ADW
Amsterdam Drone Week is the global platform for sharing knowledge about current aerial solutions, innovations and regulations. Creating valuable meetings with all key players, knowledge institutions and governments to add value to society with Urban Air Mobility. Through hybrid summits, expert sessions and matchmaking, ADW connects the entire UAM community around EASA drone regulation, new technology and future solutions. For more information and ticket sales: www.amsterdamdroneweek.com
About RAI Amsterdam
RAI Amsterdam is an international exhibition and conference organization. It organizes events at home and abroad and operates the RAI Convention Centre in Amsterdam at the Zuidas. RAI Amsterdam welcomes around 1.5 million visitors annually during some 500 events, including exhibitions, conferences, corporate events and other events. The organization also provides event-related services to organizers, exhibitors and visitors.
---
Im Drones PR-Portal erscheinen Nachrichten und Meldungen von Unternehmen aus der Drone-Economy. Für die Inhalte der Pressemitteilungen sind die jeweiligen Unternehmen verantwortlich.
---
---