SwissDrones Launches in Asia Pacific Region
Zurich, Switzerland and Perth, Australia – 30 June 2021 – From fighting wildfires to inspecting power lines and conducting emergency response missions, Australia and the Asia Pacific Region have long depended on the use of manned rotorcraft. However, because many of these missions require rotorcraft to operate over long distances, at night, during all weather conditions, in remote areas, and with limited to no infrastructure, these operations are inherently dangerous.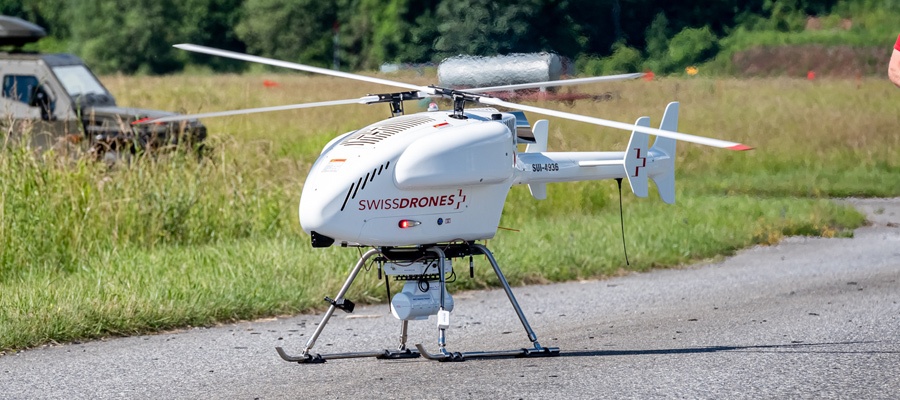 But now there is the SDO 50 V2 – a safer, cheaper, and cleaner way of conducting critical missions.
Developed by SwissDrones, a global manufacturer of long-range unmanned helicopter systems, the SDO 50 V2 is a multipurpose, Vertical Take-Off and Landing (VTOL), unmanned helicopter system that can be operated beyond visual line of sight.
Its unique design features provide superior payload capacity (45 kg/99 lbs, including fuel), long-endurance (3+ hours), stable flight patterns, the ability to carry single or multiple high-quality sensors, and a high degree of safety features. An integrated autopilot system enables autonomous take-off and landing procedures as well as autonomous flight patterns.
"Our unmanned aerial solutions were made for long-range missions in adverse weather conditions, day and night, at high altitude, and a large spectrum of temperatures – all without any risk to the crew," said Ulrich Amberg, CEO of SwissDrones.
The SDO 50 V2 uses the Flettner system of intermeshing twin rotors turning in opposite directions. Each rotor mast is mounted at a slight angle to the other to allow the blades to intermesh without colliding. The unique design provides a superior payload capacity, prolonged endurance, and stable flight patterns. This arrangement also allows the helicopter to function without a tail rotor, which saves additional power and allows a significantly higher payload to weight ratio.
Well Suited for the APAC Region
Entering the Australian and Asia Pacific markets, the SDO 50 V2 is available through Éire Aviation. At the forefront of aviation technology excellence in the Asia Pacific region, Éire Aviation has a long history in the manned aviation sector. The company specializes in opening new markets to new technologies, not only through sales but with a full range of services, including auditing, strategic advisory and operations
"Not only are the SDO 50 V2's features and capabilities ideally suited for the unique demands of Australia and the Asia Pacific region, but it also offers the same sensor payload performance as a manned helicopter without the inherent limitations," said Ronnie Fahy, CEO of Éire Aviation. "The aircraft is the perfect payload, safety, technological and performance unit for the geography and use cases required in the APAC region."
Key benefits
Unlike manned missions, the SDO 50 V2 can operate over long distances without the need for infrastructure and with only minimal ground support. In fact, the aircraft can be easily transported to the work location via van, from which two crew members can deploy it in less than 15 minutes and with little to no infrastructure required.
Furthermore, since the SDO-50 V2 can operate on a number of different fuel types, fuel planning is not as restrictive a requirement as with traditional rotorcraft types. This can eliminate fuel diversion requirements. It also results in 90%+ less CO2 emissions than its manned counterparts – all while offering comparable endurance and sensor payload capacities but at just a fraction of the cost.
Another key differentiator is that the SDO 50 V2 can safely operate at night, in adverse weather conditions, and in other scenarios deemed too dangerous for manned operations.
"When working with SwissDrones you have a safer and cleaner alternative to traditional manned rotorcraft missions," said Luca Santini, Head of Sales of SwissDrones. "We see this as being a real game-changer for firefighting, emergency services, oil and gas, maritime patrol, and infrastructure inspection missions happening in Australia and throughout the Asia Pacific region."
Each SDO 50 V2 comes backed by SwissDrones' industry-leading training, service and support program. To learn more about the SwissDrones SDO 50 V2, contact Éire Aviation at +61 480 122 948 or info@eireaviation.com
---
About SwissDrones
SwissDrones is a globally expanding Swiss aviation company specializing in the development, manufacturing, and operation of long-range unmanned helicopter systems for commercial and public safety applications. The company's unique twin-rotor aircraft are designed to replace manned helicopters at reduced costs, significantly lower carbon emissions, and without putting crews at risk when operating in challenging weather conditions. Main fields of application include aerial surveillance, search & rescue, and critical infrastructure inspection missions. The systems allow for the integration of multiple high-end sensor payloads simultaneously and enable long-range, beyond visual line of sight (BVLOS) operations both day and night with an endurance of multiple hours. SwissDrones aircraft are in operation across Asia, Europe, and North America. SwissDrones was founded in 2013 and is based in Switzerland with its headquarters in Zurich and its manufacturing site in Buchs (St. Gallen). For more information, please visit www.swissdrones.com
About Éire Aviation
Éire Aviation is at the forefront of aviation technology excellence in the Asia Pacific region, For over 20 years the company has provided aviation services and technologies that transform the way their customers do business. Éire specializes in opening new markets to new technologies, not only through sales but with a full range of services, including auditing, strategic advisory and operations. Éire is an approved business partner of SwissDrones for the Asia Pacific region and an exclusive sales channel for SwissDrones products to resource organizations/industries including Mining, OGP, Forestry and Energy within Australia, NZ, Papa New Guinea, Indonesia, and Singapore. The company operates on a quality-first ethos and employs a team of exceptional aviation professionals who are available to help organizations implement cutting-edge aviation standards into their businesses. Éire Aviation is based in Perth, Western Australia. For more information visit www.eireaviation.com
---
Im Drones PR-Portal erscheinen Nachrichten und Meldungen von Unternehmen aus der Drone-Economy. Für die Inhalte der Pressemitteilungen sind die jeweiligen Unternehmen verantwortlich.
---
---