Robotics Students Win Gold at National Autonomous Boat Competition
DAYTONA BEACH, FLORIDA – Engineering students on Embry-Riddle Aeronautical University's Maritime RobotX Team brought home a first-place award last week, winning the top prize in the Hardware and Systems Design category for their autonomous vessel system at the Association for Unmanned Vehicles Systems International (AUVSI)'s XPONENTIAL Conference, hosted in Atlanta.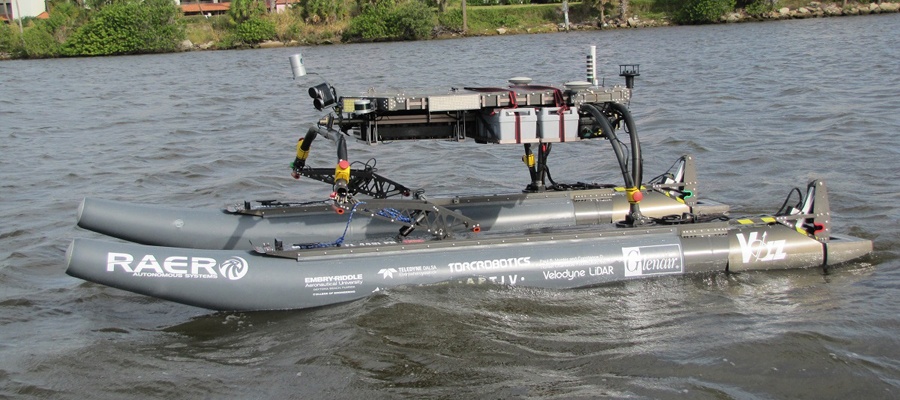 This also marked the first time the Robotics Association at Embry-Riddle (RAER) has won an AUVSI XCELLENCE Award, after finishing on top of several other competitions — including AUVSI's Intelligent Ground Vehicle AutoNav Competition earlier this year, as well as multiple top wins at the international RoboBoat competition.
"The students have kept a positive attitude through the pandemic," said Dr. Charlie Reinholtz, professor of Mechanical Engineering. "I know it was a huge disappointment for those planning to travel with the vessel to Hawaii last December for the Maritime RobotX Competition, so we organized a two-day public demonstration in January, simulating the competition."
Events like these helped to keep team members sharp, offering more of the same kind of real-world experience that Reinholtz believes will ultimately land students their first jobs.
"Almost every employer prefers to hire students with the kinds of hands-on projects we offer," he said. "Without a larger project to help students connect the pieces, knowledge gained in classes is usually compartmentalized and not easily transferred. I believe most students and employers will say that this type of project work is the most important aspect of a student's education."
Former team co-lead Jamie Barnes, Mechanical Engineering master's student on the program's Robotic Systems track, agreed.
"Having experience with the Robotics Association as a part of the RobotX Team has definitely played a huge role in getting us to where we are," she said. "Classroom learning is important, but being able to dive deep into working on autonomous systems has given us a leg up. Companies are looking for how well you can work in a team on a complex problem, and RobotX has given us that experience."
Currently, both Barnes and fellow graduate student/former team leader Matt Helms, both from Niceville, Florida, are interning at Torc Robotics.
"The work we are doing on the boat directly translates to work that is done in industry, and recruiters recognize that," Helms added.
Judging for this year's competition was conducted remotely, through information submitted via text and video assets. Next, the team will go on to compete in the Maritime RobotX Competition in Australia in 2022.
"I congratulate this distinguished group for their tremendous growth during the difficult past year, and look forward to witnessing their future milestones," said Brian Wynne, AUVSI president and CEO. "These organizations are at the leading edge of moving our industry toward a future of assured autonomy by supporting the integration of unmanned systems in safe, responsible and sustainable way."
The AUVSI XCELLENCE Awards honor innovators with a demonstrated commitment to advancing autonomy, leading, and promoting safe adoption of unmanned systems and developing programs that use these technologies to save lives and improve the human condition.
Learn more about AUVSI and the AUVSI XCELLENCE Awards and XPONENTIAL 2021 online.
---
About Embry-Riddle Aeronautical University
Reporters worldwide contact Embry-Riddle Aeronautical University for content experts in all aspects of aviation, aviation business, aerospace, engineering and STEM-related fields. Our faculty experts specialize in unmanned and autonomous systems, security and intelligence, air traffic and airport management, astronomy, human factors psychology, meteorology, spaceflight operations, urban air mobility and much more. Visit the Embry-Riddle Newsroom for story ideas.
Embry-Riddle educates 33,500+ students at its residential campuses in Daytona Beach, Florida and Prescott, Arizona, at approximately 125 Worldwide Campus locations and through online degree programs. In 2021, U.S. News & World Report named Embry-Riddle Worldwide the nation's No. 1 provider of online bachelor's degree programs.
---
Im Drones PR-Portal erscheinen Nachrichten und Meldungen von Unternehmen aus der Drone-Economy. Für die Inhalte der Pressemitteilungen sind die jeweiligen Unternehmen verantwortlich.
---
---