FlytBase and Skyqraft partner to enable autonomous power grid asset management
San Jose, California (USA), Oct 23, 2023 – Enterprise drone autonomy software platform company, FlytBase, is excited to announce its strategic partnership with Skyqraft, a leading visual data analytics provider for the grid infrastructure. Through this collaboration, FlytBase and Skyqraft aim to empower system integrators and enterprises in the transmission and distribution sectors with autonomous drone operations and analytics on their grid infrastructure.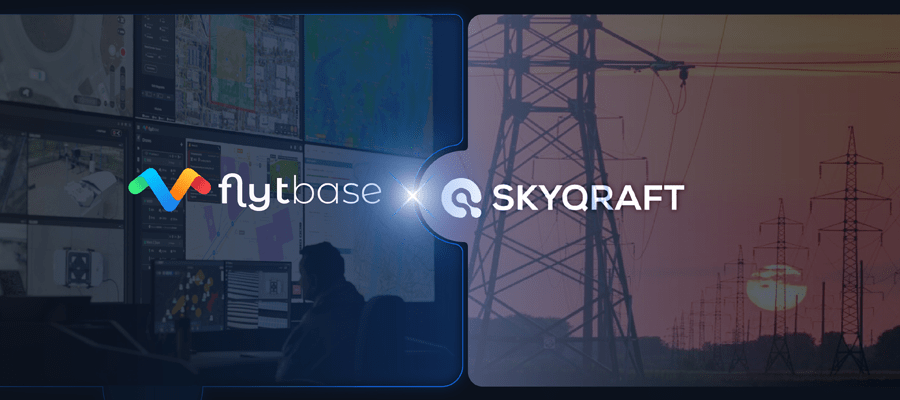 The Modern Energy Challenge
By 2045, the world's energy consumption is projected to double. As distribution and transmission operators work to increase capacity, they face aging infrastructure and increased complexity. To date, the tools for addressing these issues have been inadequate, failing to deliver precise data on grid health.
Furthermore, power grids are geographically distributed and frequently located in remote areas, making routine inspections a logistical nightmare, resulting in infrequent drone data collection. There has been a lack of a repeatable and scalable method for capturing drone data for fault identification, proactive maintenance, and extracting meaningful insights of the grid's health.
What the FlytBase-Skyqraft Partnership Delivers
FlytBase offers a cutting-edge drone autonomy software platform that empowers system integrators to execute fully automated BVLOS operations via drone-in-a-box systems that are managed from remote command centers. This platform ensures safe, repeatable data collection and seamlessly integrates with BVLOS hardware and software, such as parachutes, detect-and-avoid systems, uncrewed traffic management, and weather systems. Additionally, FlytBase offers advanced mission planning capabilities, dynamic route planning and tailored flight workflows to meet regulatory standards.
Furthermore, FlytBase adheres to the highest data protection standards, as shown by its ISO27001, SOC2 Type II, and GDPR compliance. The platform also offers a variety of deployment options, allowing users to transition to localized cloud or on-premises deployments to meet customized data privacy requirements. The platform is extensible and can be integrated with various third-party software, including the Skyqraft's data analytics platform to provide a complete end-to-end solution.
Skyqraft's platform converts drone-captured images into actionable insights, arming power grid stakeholders with timely, crucial data. By merging machine learning with human-assured quality checks, it rapidly delivers precise asset data, either visualized on the platform or transferred to an asset management system.
Every component, from utility poles to individual insulator discs and their bolts, is meticulously detailed. This granular information enhances decision-making, aids efficient maintenance planning, and drives revenue optimization. Remarkably, Skyqraft identifies a tenfold increase in critical defects and spots numerous minor issues compared to traditional inspections. These insights are concisely packaged into minor-issue and critical-defect reports, viewable within an intuitive map interface or as standalone documents. These reports are invaluable tools for grid upkeep, asset investments, and environmental considerations like vegetation control.
"Our partnership with Skyqraft aims to offer transmission and distribution industries an highly automated drone-based inspection platform," says Nitin Gupta, Founder & CEO of FlytBase, Inc. "Our aim is to simplify and streamline autonomous flight operations while providing critical insights that will improve power grid operation and maximize energy output."
John Smithers, Sales Director North America, highlights, "The collaboration between Skyqraft and FlytBase presents a comprehensive solution for grid owners, offering unparalleled capabilities in the realm of inspection automation, setting new standards in the industry."
Join FlytBase and Skyqraft for their latest webinar, as they discuss how to 'Optimize Power Grid Uptime with Autonomous Drones and Data' on the 26th of October at 10:00 AM CT (16:00 GMT). To register, please visit the following link: http://bit.ly/495W5JD
---
About Skyqraft
Skyqraft provides faster, more accurate, and more sustainable inspections of energy infrastructure enabling power grid owners to navigate the challenges posed by increasing energy consumption and secure the reliability and longevity of their grids. Powered by AI, quality assured by experts, We offer modern grid inspection solutions, revolutionizing the way power grid owners assess and maintain their infrastructure. Our mission is to support grid owners in digitizing, and strengthening their existing grids, enabling them to enhance efficiency, reliability, and sustainability.
About FlytBase, Inc.
Founded in 2016, FlytBase, Inc., a Silicon Valley company, is an enterprise drone autonomy software platform. FlytBase was a part of Cisco's accelerator program and was recognised as the Grand Champion at the NTT Data's Global Innovation Contest. FlytBase's enterprise-grade secure, reliable & scalable platform is designed for system integrators to seamlessly integrate various components of the drone ecosystem, including hardware, BVLOS capabilities, and data analytics/management apps to fully automate flight operations and build custom workflows for enterprise use-cases like security, inspections, or emergency response.
---
Im Drones PR-Portal erscheinen Nachrichten und Meldungen von Unternehmen aus der Drone-Economy. Für die Inhalte der Pressemitteilungen sind die jeweiligen Unternehmen verantwortlich.
---
---