FlytBase and DroneDeploy partner to unify autonomous drone dock operations and reality capture
San Jose, California (USA), Nov 10, 2023 – FlytBase and DroneDeploy jointly announced a strategic partnership set to redefine the landscape of autonomous drone operations and reality capture. This integration brings together the best of both platforms, enabling users to effortlessly automate end-to-end workflows from start to finish. FlytBase customers and partners will now have a way to automatically load the captured data into DroneDeploy, enabling them to generate highly accurate 3D maps.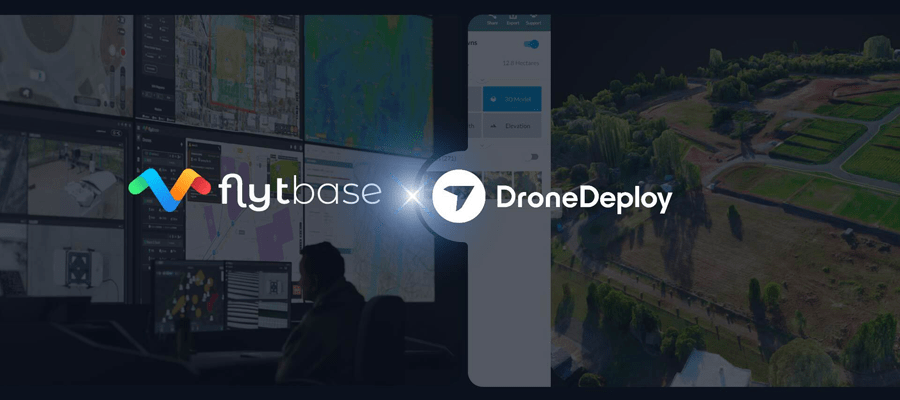 Elevating the drone autonomy and data game
"Up until now, the drone software landscape has been quite fragmented, with platforms focusing on different aspects of drone operations – be it fleet management, flight operations or specialized data analysis for specific industries. Enterprises and system integrators have been looking for a unified solution that can comprehensively manage their docked drone operations and accurately map their assets. The need for an all-in-one solution was clear, and that's precisely what we aim to offer through our partnership with DroneDeploy," said Nitin Gupta, Founder and CEO of FlytBase.
By incorporating a variety of Beyond Visual Line of Sight (BVLOS) components – such as parachutes, detect-and-avoid systems, uncrewed traffic management and weather systems – FlytBase ensures that drone operations are both reliable and secure. Leveraging FlytBase, customers and partners have successfully obtained BVLOS certifications from top aviation authorities in 10 countries, including the FAA in the United States, EASA in Europe, CASA in Australia, SACAA in South Africa, JCAB in Japan and CAAM in Malaysia. The platform also goes beyond basic mission planning by offering advanced features like dynamic route planning and customized flight workflows, all designed to align with regulatory standards. The platform is hardware-agnostic, supporting a wide range of drones and docking stations.
In addition, FlytBase prioritizes data security by adhering to leading data protection standards. The platform is ISO 27001, SOC2 Type II certified and GDPR compliant. The data captured in FlytBase can then be easily synced and uploaded to DroneDeploy's platform, where it is automatically processed into highly detailed 3D models and maps.
DroneDeploy is the market leader in aerial and ground-based reality capture, helping its customers spanning 190 countries capture an instant understanding of their operations through drone, robotics and 360 camera data, with over 400 million acres and 2.2 million sites mapped to date from 9.4 million flights.
"DroneDeploy provides the important technology for operators to gain an instant view of data, no matter how it is captured, and is the only platform that connects people to job sites across the entire asset lifecycle. From aerial and ground views of construction progress to automated gauge readings and methane leak detection, DroneDeploy reduces the need for time-consuming manual inspections, helping to mitigate risk and keep field teams safe. Partnering with FlytBase will provide our customers with a centralized way to capture, process, view and analyze their data, providing businesses with the insights they need to operate more efficiently." Andy Pavletich, Group Product Manager at DroneDeploy.
---
About DroneDeploy
Build with certainty, operate with confidence. That's why thousands of construction, oil and gas and renewable energy companies use DroneDeploy on a daily basis. We help them automate reality capture using drones, robots and 360 cameras – combining this data in one platform for AI-powered analysis. From aerial and ground views of construction progress to automated gauge readings and methane leak detection, DroneDeploy is shaping the future of reality capture. To learn more, visit www.dronedeploy.com.
About FlytBase
Founded in 2016, FlytBase, Inc., a Silicon Valley company, is an enterprise drone autonomy software platform. FlytBase was a part of Cisco's accelerator program and was recognised as the Grand Champion at the NTT Data's Global Innovation Contest. FlytBase's enterprise-grade secure, reliable & scalable platform is designed for system integrators to seamlessly integrate various components of the drone ecosystem, including hardware, BVLOS capabilities, and data analytics/management apps to fully automate flight operations and build custom workflows for enterprise use-cases like security, inspections, or emergency response. To learn more, visit https://www.flytbase.com.
---
Im Drones PR-Portal erscheinen Nachrichten und Meldungen von Unternehmen aus der Drone-Economy. Für die Inhalte der Pressemitteilungen sind die jeweiligen Unternehmen verantwortlich.
---
---