Easy Aerial Raises the Bar in Portable, Autonomous Drone-Based Monitoring Solutions with Next Generation Compact Tether System
New Easy Compact Tether System (ECTS) features an extended data-over-power (DOP) enhanced tether, new form factor, and additional UAV options, offering unlimited flexibility for tactical operations in the field.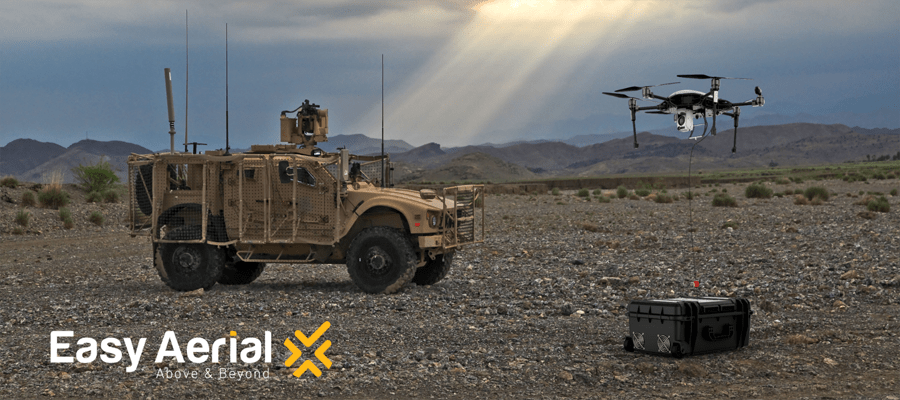 Brooklyn, New York – December 14, 2021 – Easy Aerial, a leading provider of autonomous drone-based monitoring solutions for commercial, government, and military applications, today announced the launch of its next-generation Easy Compact Tether System (ECTS). The newest addition in the company's portfolio of Smart Aerial Monitoring Systems (SAMS), the ECTS offers users a lightweight, easily transported autonomous tethered and optionally tethered drone solution that provides a constant and customized eye-in-the-sky surveillance for extended periods, allowing users to obtain aerial imagery and situational awareness.
"At Easy Aerial, we are continuously innovating by developing new and improved products, often based on customer feedback," said Ido Gur, CEO of Easy Aerial. "We are proud to offer ECTS to enterprises, government and military organizations needing a compact, portable, affordable and versatile security and force multiplier solution."
The ECTS features a 200ft or 330ft data-over-power (DOP) enhanced tether for resilient, unjammable data security. It can support 24 hours of continuous flight, even in extreme weather conditions, and offers precise hovering over the ground station at speeds up to 25mph when deployed from a vehicle. Weighing just 40lbs and measuring 24 x 16 x 10 inches, the ECTS new form factor provides improved stability and is light and portable, making it ideal for mission-critical, on-the-move operations in the field. ECTS is compatible with Easy Aerial's line of rugged, military-grade drones, including the agile Alpine Swift quadcopter or the versatile Albatross and Raptor hexacopters. Depending on the drone model, payloads include multiple HD and thermal cameras, sensors, lights, communications, lidar, and other electronic options.
Like all of Easy Aerial's autonomous, cost-effective Smart Aerial Monitoring Systems, the ECTS is rugged, durable, all-weather capable, and can be remotely deployed and operated in the most inhospitable environments, without the need of an onsite operator or infrastructure support.
In addition to being AS9100 and ISO9001 certified, all Easy Aerial systems are NDAA Sec. 848 compliant and built with qualified traceable components. Its unmanned aerial vehicles and supporting systems are designed, built, and tested at the company's Brooklyn, N.Y. headquarters. Easy Aerial participates in the DoD Defense Innovation Unit Blue sUAS 2.0 program.
---
About Easy Aerial
Easy Aerial is the leading provider of autonomous drone-based monitoring solutions for government, enterprise and defense applications. Developed, patented and manufactured in the United States, Easy Aerial's unique free-flight, tethered and optionally tethered hybrid drone-in-a-box systems are fully autonomous, modular, portable, and rugged, with the ability to operate in the most adverse weather conditions. They can be deployed anywhere for many mission-critical applications such as perimeter and border security, event monitoring, first responder support, agriculture monitoring, industrial inspection, and tactical military maneuvers without the need for a human operator. The company's customer base includes military, government, aerospace, transportation and commercial organizations, with systems operating worldwide. Easy Aerial is an ISO9001 and AS9100 certified company founded in 2015 and headquartered in Brooklyn, New York, with regional offices in Tel-Aviv, Israel, and Belgrade, Serbia. Learn more at www.easyaerial.com
---
Im Drones PR-Portal erscheinen Nachrichten und Meldungen von Unternehmen aus der Drone-Economy. Für die Inhalte der Pressemitteilungen sind die jeweiligen Unternehmen verantwortlich.
---
---