Easy Aerial Launches World's First Hybrid Tethered and Free Flying Drone-In-A-Box System
Brooklyn, New York - June 30, 2021 - Easy Aerial, a leading provider of autonomous drone-based inspection, monitoring and surveillance solutions for commercial, government, and military applications, today announced the launch of its groundbreaking Raptor drone. This unique drone-in-a-box solution is the first of its kind to offer operators the option to fly tethered or untethered, and the ability to untether during flight.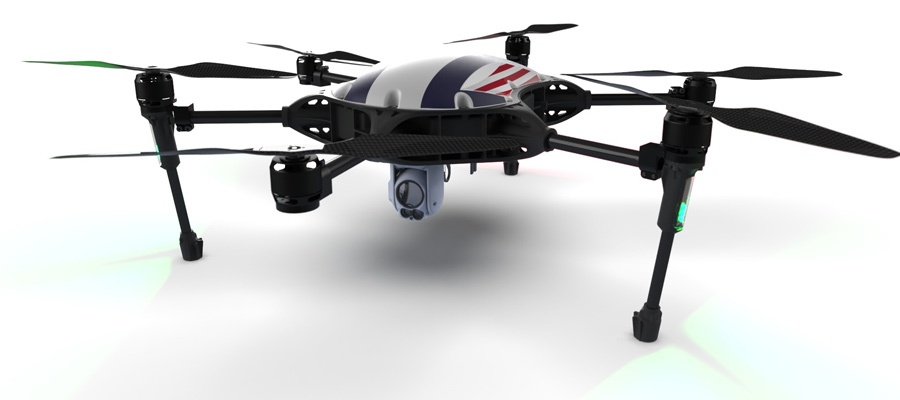 The Raptor predominantly operates in tethered mode for prolonged situational awareness or persistent surveillance, providing a continuous data and video feed to field personnel or the command center. Following a command from an operator, a triggered alarm, or if the onboard sensors identify a pre-selected object, the tether is released, descends via parachute, and is spooled back into its ground station. The Raptor then continues on a free-flight autonomous or manually operated pursuit mission.
Upon completing its objective, or if the onboard batteries run low, the system will automatically return for a precision landing in the Easy Guard, even if the ground station has moved to a new location.
The Raptor's hybrid system makes it well-suited for long-range overwatch or surveillance missions, day and night, even in extreme weather conditions. In free-flight mode, the system can fly up to 12 miles at speeds in excess of 60 MPH with a maximum 4.5lb payload capacity. In addition, the system supports a wide range of optical and thermal sensors to meet any specific operational requirement.
"Offering unlimited tethered flight time and up to 45 minutes of untethered autonomous free flight, the Raptor provides public safety, defense, enterprise and industrial organizations with a reliable eye in the sky," said Ido Gur, Co-Founder and CEO of Easy Aerial. "Like all of Easy Aerial's autonomous Smart Aerial Monitoring Systems, the Raptor combines drone-in-a-box versatility with military-grade durability. The system can take off and land from a portable, rechargeable enclosure without the need for an on-site operator, and can be remotely deployed and operated from anywhere in the world, even in the most inhospitable environments."
The newest addition to the company's rapidly expanding portfolio of versatile and secure tethered and untethered Smart Aerial Monitoring Systems (SAMS), the Raptor is housed and deployed from an Easy Guard tethered (EG-T) ground station. EG-T is a MIL-STD 810G certified weatherproof enclosure designed for rapid transport and set up by a two-person team. EG-T's relatively small size and weight allow it to be deployed from stationary and mobile launch sites, such as ground vehicles or watercraft traveling up to 25 miles per hour. For customers needing an ultra-portable solution, the Raptor is also compatible with the SAMS-T-Mini ground station designed for mission-critical, on-the-move operations.
The Raptor can be operated with the Easy Remote Monitoring System (ERMS), a secure communications and fleet operations platform featuring advanced mission planning, automated flight control with manual override, flight telemetry, smart geofencing, and camera controls. The system can command a single drone or simultaneously coordinate an entire fleet while transmitting high-definition optical and thermal video in real-time for persistent, 360-degree situational awareness. ERMS can be securely accessed anywhere and at any time, enabling operators to conduct missions from a command center desktop or in the field with a smartphone, tablet, or proprietary controller. The system can also be configured with AI-based object detection and classification software and employ machine learning algorithms to continually improve and expand its capabilities.
"With the introduction of the Raptor, we have again pushed the boundaries of what is possible with our advanced drone technology," said Ivan Stamatovsky, Easy Aerial Co-Founder and CTO. "Our latest system has undergone rigorous testing and development with our US armed forces partners and has performed outstandingly in a variety of military and civilian applications."
All Easy Aerial systems are field-proven, NDAA Sec. 848 compliant, and built with qualified traceable components. All drones are designed, built, and tested at Easy Aerial's Brooklyn, N.Y. headquarters.
Easy Aerial is now accepting orders for the Raptor. Sales include on-site installation, training, and a limited warranty. Additional maintenance service packages are optional. For more information or to schedule a demo, please visit www.easyaerial.com.
---
About Easy Aerial
Easy Aerial is a leading provider of autonomous drone-based monitoring solutions for commercial, government, and military applications. Developed, patented and manufactured in the United States, Easy Aerial's unique free-flight, tethered and hybrid drone-in-a-box systems are fully autonomous, modular, portable, and rugged, with the ability to operate in the most adverse weather conditions. They can be deployed anywhere for many mission-critical applications such as perimeter and border security, event monitoring, first responder support, agriculture monitoring, and industrial inspection without the need for a human operator. The company's customer base includes military, government, aerospace, transportation and commercial organizations, with systems operating worldwide. Easy Aerial is an ISO9001 certified company founded in 2015 and headquartered in Brooklyn, New York, with regional offices in Tel-Aviv, Israel, and Belgrade, Serbia. Learn more at www.easyaerial.com
---
Im Drones PR-Portal erscheinen Nachrichten und Meldungen von Unternehmen aus der Drone-Economy. Für die Inhalte der Pressemitteilungen sind die jeweiligen Unternehmen verantwortlich.
---
---