Dutch Grand Prix turns to AI and drones for better spectator experience
London, UK, 27 September 2021 - High-performance F1 cars and the stars who drive them weren't the only thing to see at this year's Dutch Formula 1 Grand Prix. AI-enabled cameras mounted onto flying drones were also out in force, hovering above excited crowds, with the aim of improving the spectator experience in the future.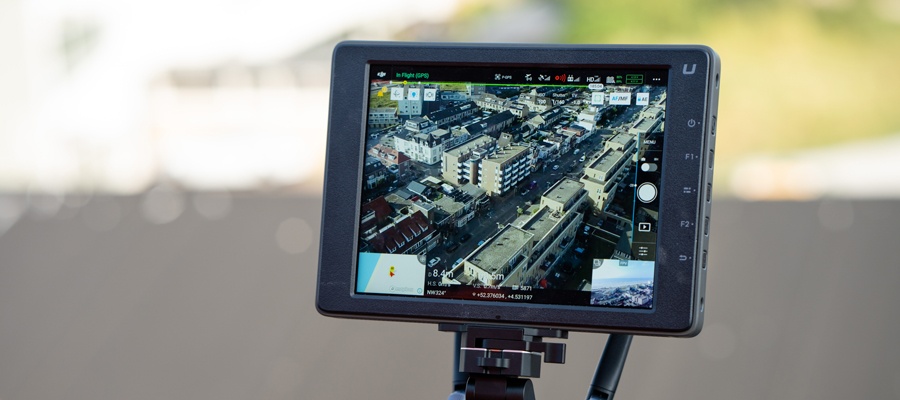 NS, the Dutch national railway company, teamed up with European start-up Fyma, an AI computer vision company, to look more closely at how crowds moved between the train stations and the prestigious Zandvoort F1 circuit, which saw it first Grand Prix race since 1985, with around 70,00 spectators and a record 13.5 million TV viewers.
As anyone who has ever attended a large spectator event, the journey to and from the venue, and the crowded queues to get it, can be the most challenging and time-consuming parts of an otherwise enjoyable trip to see your favourite sports team or performer.
With the use of AI-enabled cameras attached to drones landing on and off the roof terraces of the NS Station Zandvoort aan Zee, Fyma was able to quickly map out a complete overview of the intended areas, enabling NS Stations to better understand and manage the large numbers of Grand Prix spectators, ensuring the best customer experience, as well as the safety and security of spectators on their journeys.
Jeroen van den Heuvel, Project Leader, NS Stations said: "We wanted to investigate whether the algorithm was able to count people from a large crowd. By setting up different measurement zones, we hoped to measure not only the number of people but also the speed at which people moved in certain zones.
"This worked exceptionally well as we were able to use crowd monitoring intelligence from the Fyma AI solution to effectively manage the flow of traffic to and from the Formula One track and the station. Since Fyma AI's tool processes the footage in real-time, the images do not need to be saved. This also helps ensure that we are GDPR compliant throughout the process."
The visual footage data was processed by Fyma using purpose-built advanced algorithms for monitoring crowds of people in urban environments, which was then analysed and sent to a designated server in real-time before being transferred directly to the NS operation centre. The whole set-up process was completed in a few minutes.
Overall, the testing period took place over the space of an hour and the Fyma AI camera plus drone approach managed to detect the movement of an estimated 4000 people split between six 5-minute drone flights.
Karen Burns, co-founder and CEO of Fyma said: "Our collaboration with NS at such a fun and noteworthy event, shows us how easy it is to transform standard cameras into more useful sources of insight for the good people as consumers, citizens and travellers.
"Commercial estate managers and urban planners are waking up to the massive potential that AI will have when it comes to creating amazing customer and citizen experiences, adapting spaces to changing needs, and better planning for the future."
Throughout the pilot, the privacy and security of spectators was protected, in line with GDPR regulations, as Fyma's AI is trained to never recognise faces, ever. It means no biometric data is gathered, and Fyma does not store any of the camera's data, only metadata, which is stored on servers in Germany and never leaves the EU.
---
About Fyma:
Fyma is a European AI computer vision startup. Its solution turns any CCTV camera into a smart device to deliver actionable insights via its SaaS platform to help commercial real estate owners and urban planners make better strategic decisions. The company is fully compliant with GDPR and follows a privacy-by-design approach preventing facial recognition and anonymising all gathered data. Fyma was founded in 2019 by CEO Karen K. Burns and CTO Taavi Tammiste. For more information: https://www.fyma.ai
About NS:
NS Groep N.V. (Dutch Railways) is the principal passenger railway operator in the Netherlands. NS runs 4,800 scheduled domestic trains a day, serving 1.3 million passengers. In addition, NS provides international rail services from the Netherlands to other European destinations and carries out concessions on some foreign rail markets through its subsidiary Abellio. With revenues of more than €4.9 billion in 2015, NS employs 24,000 staff and is headquartered in Utrecht in the Netherlands. For more information: http://www.ns.nl/en
---
Im Drones PR-Portal erscheinen Nachrichten und Meldungen von Unternehmen aus der Drone-Economy. Für die Inhalte der Pressemitteilungen sind die jeweiligen Unternehmen verantwortlich.
---
---