Droniq and DLL offers leasing option
Frankfurt, 11.10.2023 – At the beginning of October, Droniq, the specialist for the commercial and government use of drones, launched its new leasing option together with DLL, the vendor financing company. This move opens up new ways for Droniq's customers to use industrial drones.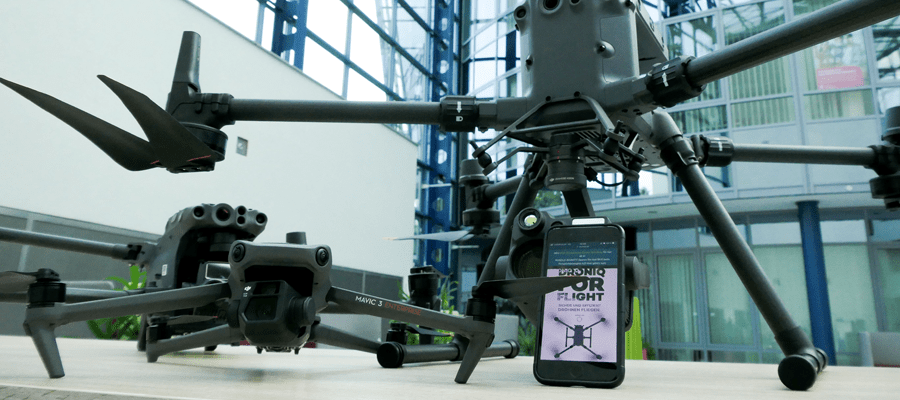 Under the leasing model, drone users are not forced to buy a drone specially tailored to their current mission. Instead, they can lease the drone they require for a monthly fee. Customers can choose from all drone models available at Droniq. The standard lease term is 36 months, but the term can be tailored to match individual needs.
The lease offer also includes the appropriate sensor technology for the respective drone. This includes, for example, thermal imaging and infrared cameras or lidar scanners. All commercial customers can access this service, while the lease itself is provided by DLL.
DLL is a wholly owned subsidiary of Rabobank and has been active in the market as a leasing company for over 50 years. The company is one of the largest leasing companies in Europe and has a wealth of expertise in financing plant and machinery in many different economic sectors, including construction, industry and agriculture.
"By offering leasing, we are making it easier for our customers to gain access to the drone market," said Droniq CEO Jan-Eric Putze. "We are now in the position to offer the right drone and the right accessories for every mission. Through our other products and services, which include training, support in applying for an operating licence or even the complete handling of the drone mission, we can provide our customers with one-stop solutions."
In the future, Droniq and DLL plan to further expand the leasing model. You can find out more about Droniq's leasing here.
---
About Droniq GmbH
Droniq GmbH is a joint venture founded in 2019 by DFS Deutsche Flugsicherung, who holds a 51-percent stake, and Deutsche Telekom, who holds a 49-percent stake. The company is based in Frankfurt, Germany, and has set itself the objective of advancing the professional and safe use of unmanned aircraft systems, or drones, by public authorities and organisations tasked with public safety and security as well as by companies.
The core of Droniq's product offering is the Droniq traffic management system for unmanned aircraft systems (UTM). The UTM shows pilots all surrounding air traffic – both manned and unmanned. Furthermore, other air traffic participants can also see the drone, if necessary. With this system, which is unique in Germany, Droniq is creating the basis for using drones safely beyond the visual line of sight.
Other services offered by Droniq include the sale of drones for commercial and government use, as well as hardware and software solutions for their safe operation. Droniq also supports its customers in applying for licences and permits, and advises on mission planning. With its Droniq Academy in Frankfurt, Mönchengladbach and other places in Germany, the company also offers remote pilots the opportunity to complete training and examinations. Droniq's customers include police forces at all governmental levels, fire and rescue services as well as companies from the chemical, logistics, construction and security sectors. www.droniq.de
About DLL
DLL is a global asset finance company for equipment and technology with a managed portfolio of more than EUR 40 billion. Founded in 1969 and headquartered in Eindhoven, the Netherlands, DLL provides financial solutions to the Agriculture, Food, Healthcare, Clean Technology, Construction, Transportation, Industrial, Office Equipment and Technology industries in more than 25 countries. DLL partners with equipment manufacturers, dealers and distributors, as well as end-customers on a direct basis, to enable businesses to more easily access equipment, technology and software. The company also delivers insights and advice to partners and customers that drive smarter and more economical methods of use. DLL combines customer focus with deep industry knowledge to deliver sustainable solutions for the complete asset life cycle, including commercial finance, retail finance and used equipment finance. DLL is a wholly owned subsidiary of Rabobank Group. To learn more about DLL, visit www.dllgroup.com.
---
Im Drones PR-Portal erscheinen Nachrichten und Meldungen von Unternehmen aus der Drone-Economy. Für die Inhalte der Pressemitteilungen sind die jeweiligen Unternehmen verantwortlich.
---
---