Dronetag Synchronization Now Available for Professional Pilots via DroneLogbook
The new partnership between Dronetag and DroneLogbook allows commercial pilots using the DroneLogbook platform to import telemetry flight data from Dronetag Remote ID devices. In addition to the telemetry data from manufacturers DJI, Wingtra or Sensefly, the users of DroneLogbook can now use data from dedicated Remote ID devices as a backup channel in case standard APIs don't work or pilot's drone model is not supported. This integration provides DroneLogbook users with an additional robust tool enabling professional pilots in the US, Europe and other countries to fulfill their legal obligations as they must regularly present complete flight data to the local and national offices responsible for airspace safety.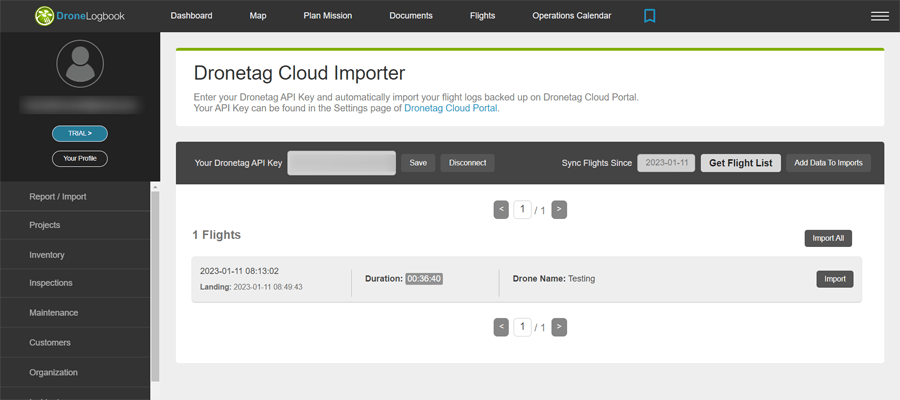 The manufacturer of Remote ID devices, Dronetag, announces a new partnership with DroneLogbook, a platform for telemetry data logging, compliance and comprehensive management of commercial UAV fleets.
"The huge advantage for professional pilots is that we regularly maintain and update our API while its functionality is not affected by any firmware updates. The downtime of Dronetag integration with services like DroneLogbook is almost non-existent, which is something that cannot be said about features built into drones by their manufacturers. The pilots using Dronetag now have a reliable backup in case of malfunction that prevents them from uploading data to the DroneLogbook and presenting them to the local airspace authority," explains the benefits of Dronetag integration CEO and co-founder of Dronetag Lukas Brchl.
DroneLogbook has tens of thousands of active pilots using their public platforms and over 100 organizations running DroneLogbook on private label servers. DroneLogbook processes thousands of flights every day; its users are almost exclusively professional pilots from the commercial sector using the app to comply with local regulations of drone airspace. DroneLogbook allows them to import flight logs to auto-fill flight data, view GNSS trace and play it back in 3D. The app supports more than 80 log file types from all major manufacturers: DJI, Parrot, Autel, Wingcopter, FlyAbility, Wingtra, SenseFly, Yuneec, and now also from the Remote ID manufacturer Dronetag.
"The new integration allows users to automatically sync flight logs from Dronetag App to their DroneLogbook accounts. Added value for users is that they can now import the telemetry of drones that are currently not supported by DLB Sync, Autel Explorer and others as Dronetag devices are completely independent on the drone platform. Using DroneLogbook + Dronetag is not only the way to become compliant with the latest regulations, but also an easy option to have the data of your whole drone fleet in a single platform regardless of what drone manufacturers you use at the moment," states Yves Jusot, the co-founder and CEO of DroneLogbook.
The professional pilots will soon (this requirement is going to be mandated in the US and EU during 2023) become forced to comply with the Remote ID policy, so in this light, the new partnership is also a proactive step in preparing the whole drone world for the upcoming innovation. By using DroneLogBook and Dronetag, the pilots not only become compliant with the latest regulations, but they can have the data of all their drone fleets in one single platform regardless of what drone manufacturers they use now.
---
About Dronetag:
Dronetag is a manufacturer of remote identification devices for drone pilots and manufacturers. Its add-on transmitters enrich existing drones with a Remote ID capability, while modules are used by manufacturers who built them directly into their drones' internal circuits. Dronetag devices transmit identification and location data to other airspace participants via Dronetag App, which offers advanced fleet management tools to professional pilots. The company's vision of safer airspace relies on innovative unmanned traffic management and digitally visible drones.
www.dronelogbook.com
---
Im Drones PR-Portal erscheinen Nachrichten und Meldungen von Unternehmen aus der Drone-Economy. Für die Inhalte der Pressemitteilungen sind die jeweiligen Unternehmen verantwortlich.
---
---