Dronetag and Yuneec join forces in the strive for the safer drone airspace
Dronetag and Yuneec announced a new partnership. Dronetag remote identification devices Mini and Beacon are now available as recommended Yuneec accessories approved by Yuneec Certified Accessory Program (YCAP). Both companies are working on a built-in module for the upcoming Yuneec H850 model. Dronetag and Yuneec likewise strive to share awareness about an era of digitally visible drones among pilots – planning their first joint webinar in November 2022.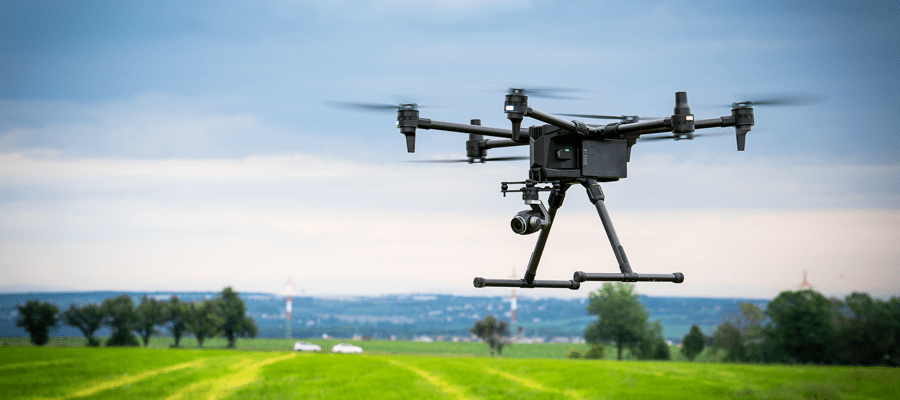 Remote identification (Remote ID) is a new concept consented to by regulators in various regions to increase drone airspace safety in reaction to the continuously growing number of active UAVs, especially in the EU and US regions. The Remote ID is now backed with official standards and designed to come into force within two years. As this "digital license plate" will be required from both new and existing drones, Dronetag has come with a line of Remote ID transmitters that have been approved by the Yuneec Certified Accessory Program (YCAP).
"Drone flying is about to change radically. Regulators will start legally forcing digital visibility of all UAVs in coming years, but we believe that Remote ID brings higher safety and better control to pilots even now. We proudly welcome Yuneec among our partners, sharing the same vision. The trust we received from one of the world's leading drone manufacturers is an important confirmation that the hard work of the whole Dronetag team is heading in the right direction," states CEO and co-founder of Dronetag Lukas Brchl.
Dronetag external devices Mini and Beacon are now available at the Yuneec online store. These are transmitters boxed in the 3D-printed chassis that can be attached to any drone with sturdy 3M fasteners – full-fledged Mini offering both Network & Direct Remote ID via LTE or Bluetooth and lightweight Beacon equipped solely with Direct Remote ID via Bluetooth.
The German manufacturer now works on the brand new drone Yuneec Typhoon H850, which will come with a dedicated built-in slot for the Dronetag Module. This Module is a hardware part that manufacturers can integrate directly with the motherboard and build into the drone body. Modules are also available in two versions; one for Direct Remote ID, and the other for Network & Direct Remote ID, since it provides data via Mobile network and Bluetooth.
"Drone operations safety is encoded deep in the Yuneec's DNA. As we believe that drone identification makes the airspace much safer and more predictable, we decided to offer the Remote ID feature to our customers immediately. And as Dronetag worked on the technology for the last four years, getting them onboard propelled us a great distance ahead in the timeline," introduced the new partnership Marcel Graaf, COO at Yuneec Europe.
The introduction of Remote ID brings benefits to all airspace participants. Based on the drone specifics and several other factors, the pilots will be required to share drone identification, location and other flight data in two ways. In general, lighter hobby drones must broadcast their flight data to their surroundings via Direct (in some countries called Broadcast) Remote ID. At the same time, professional pilots need to share the flight data in the cloud via Network Remote ID. The concept is relatively new, and state regulators are in the process of adjusting details. Still, the overall intention is known – increase safety, add transparency and prepare drone airspace for near-future business applications, including autonomous flying.
To share awareness about Remote ID, Yuneec and Dronetag decided to organize their first webinar targeted at the DACH region on the 2nd of November 2022. Find more about the event here.
---
About Dronetag:
Dronetag is a manufacturer of remote identification devices for drone pilots and manufacturers. Its add-on transmitters enrich existing drones with a Remote ID capability, while modules are used by manufacturers who built them directly into their drones' internal circuits. Dronetag devices transmit identification and location data to other airspace participants via Dronetag App, which offers advanced fleet management tools to professional pilots. The company's vision of safer airspace relies on innovative unmanned traffic management and digitally visible drones.
About Yuneec Europe:
At the beginning of Yuneec's history, the aim was to promote innovation and accessibility in the aircraft industry. Yuneec has been pushing the boundaries of electronic aviation technology for over 15 years – from the first commercially successful remote-controlled "Ready To Fly" fixed-wing aircraft to ground-breaking electric aircraft and the new generation of hexacopters with video cameras.
---
Im Drones PR-Portal erscheinen Nachrichten und Meldungen von Unternehmen aus der Drone-Economy. Für die Inhalte der Pressemitteilungen sind die jeweiligen Unternehmen verantwortlich.
---
---