Devon shipyard cuts metal on world's first unmanned Fast Rescue Craft
Exeter, United Kingdom, 24 January 2023: Coastal Workboats has announced a new partnership with Scottish Search and Rescue technology innovator, Zelim. Metal was recently cut for Zelim's first 'Guardian Class' Fast Rescue Craft vessel at Coastal Workboats' Devon yard.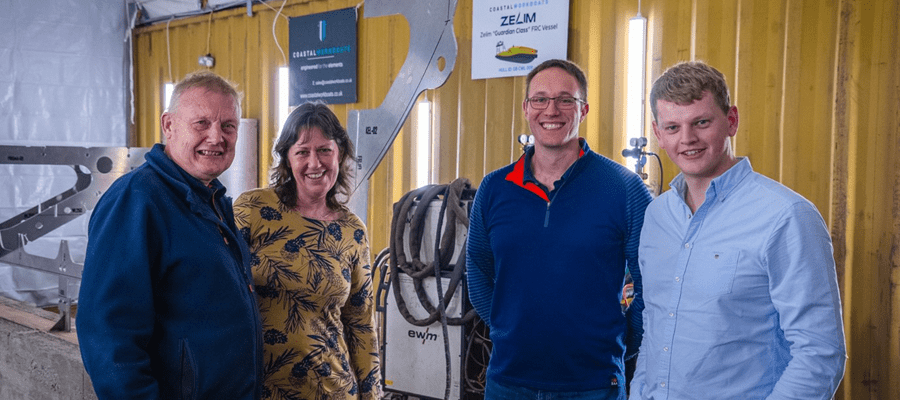 As a first of its kind, the 8m 'Guardian Class' combines Zelim's innovative Swift Rescue Conveyor with a Fast Rescue Craft that has unmanned operation capability. The two companies signed contracts for the build of the aluminium prototype at the end of 2022.
Time is arguably the most critical factor in successful search and rescue operations. The need to reach the incident location then spot and recover casualties as fast as possible is paramount. Guardian is designed for speed and incorporates Zelim's two-step recovery system. The system's real time, AI-based casualty detection can spot and track multiple casualties in the water in all conditions. Once survivors are detected, Zelim's Swift Rescue Conveyor can recover casualties from the water in a matter of seconds. The technology was trialled and successfully demonstrated to offshore wind industry stakeholders at Race Bank Offshore Wind Farm, off the coast of Grimsby, in May 2022.
Guardian will feature remote command and control capability, making it the world's first uncrewed rescue vessel. The design is aimed at providing enhanced capability to respond to person overboard incidents and close standby cover for offshore operations. Deploying from a larger vessel offshore, Guardian will be first to arrive on scene to recover casualties and bring them back to the safety of the parent vessel. The technology has already garnered interest from the offshore energy sector, however, could revolutionise emergency response across the maritime industry. This is largely due to the vessel's capability to respond in conditions usually deemed too dangerous for crewed Fast Rescue Craft.
For Coastal Workboats Director, Brian Pogson, the partnership marks a major step forward in marine safety, with the potential to significantly remap search and rescue possibilities.
"We're delighted to be working in partnership with a company that shares our focus on finding safe, robust ways for technology and innovation to pave the way for a better, safer future at sea. It's an exciting time to be exploring the possibilities of what our ever-evolving technology offers and we're committed to ensuring that it is used to improve and safeguard our industry's future."
Sam Mayall, Zelim CEO, recognises the importance of partnering with UK companies as his team continues to help secure the UK's reputation as a global leader in innovative maritime safety.
"When bringing ground-breaking technology to market you need partners who share your vision. We are thrilled that Coastal Workboats is on the journey with us. It's very important for us that our vessel is built here in the UK. Shipbuilding in this country has faced challenging times over the past few decades but the UK still produces fantastic vessels including the lifeboats which protect our shores. We want that to continue."
Andy Page of Chartwell Marine, the naval architects behind Guardian, said: "We are very proud to see the first Guardian Class vessel go into construction. It is satisfying to be working on this advanced lifesaving platform with likeminded people such as the teams at Zelim and Coastal Workboats. We look forward to sea trials later this year!"
Guardian is scheduled for completion early this year. On leaving the yard the vessel will undergo extensive sea trials before appearing at various industry events later in 2023.
---
About Coastal Workboats
Coastal Workboats Ltd is a leading builder of steel and aluminium commercial workboats and provider of associated support services. The company is based between Devon and Scotland.
www.coastalworkboats.co.uk
About Zelim
Zelim is on a mission to make unmanned search and rescue the norm. The company's technology is changing how we find, recover and protect people in distress. Founded by mariners, the company is creating a step change in offshore safety, whereby rescuers will no longer need to risk their lives to save others and rescues are carried out in conditions previously deemed too extreme for humans. The company has three main products:
• Swift: The fastest person overboard recovery device on the market, winner of the European Commercial Marine Safety Innovation Award.
• SARBox: An AI enabled casualty detection and tracking solution.
• Guardian: The world's first rescue vessel which can be crewed or remotely operated.
www.zelim.com
---
Im Drones PR-Portal erscheinen Nachrichten und Meldungen von Unternehmen aus der Drone-Economy. Für die Inhalte der Pressemitteilungen sind die jeweiligen Unternehmen verantwortlich.
---
---