Business is Key Focus of EUROPEAN ROTORS 2023
EUROPEAN ROTORS, the largest business-to-business rotorcraft event in Europe, has something for everyone who is connected to the vertical flight industry. And while the event schedule appeals to a broad audience, it is the business conducted at the show that remains the key focus for show organisers.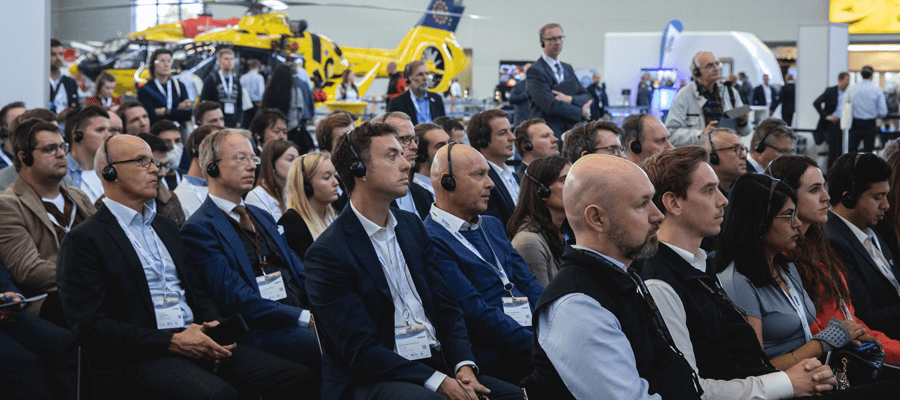 "We started this show to make it easier for Europe's rotorcraft industry to conduct business with each other," says Christian Müller, Chairman and Technical Director of EHA. "We conducted hundreds of millions of Euros worth of business during the first two shows, so we know our exhibitors and attendees are excited about the opportunity we are providing to them.
Now in its third year and supported by the largest companies in the industry, EUROPEAN ROTORS 2023 is taking place in IFEMA Hall 9 in Madrid, 27-30 November, with exhibits open 28-30 November. The European Union Aviation Safety Agency (EASA) and the European Helicopter Association (EHA) are organising the show in coordination with Helicopter Association International (HAI) and the Spanish Helicopter Association, ATAIRE.
Building on the success of the first two shows, more and more companies are joining the already busy show floor.
"We had a great show last year that was very successful, and everyone was pleased," adds Müller. "However, this show is already bigger. Since networking is another large element of our show, we expect that rotorcraft industry professionals are coming this show to meet current customers and vendors, and establish new business connections for the future. This show is for the industry, put on by those of us in the industry, and we're excited to see everyone from the industry here."
Exhibition space is limited but still available. Companies interested in promoting their products or services can find information on the EUROPEAN ROTORS website. Advertising and sponsorship opportunities also remain available as well.
Matching Employees with Employers
"We are aware that many companies continue to suffer through the shortage of pilots and maintenance personnel," continues Müller. "If you are seeking employees, we recommend participating in our Career Day." The day-long event, on Thursday, 30 November, will feature guided tours for regional schools and universities, and media campaigns are expected to draw even more experienced applicants.
Prospective employers have three options for participation. First, employers may rent a desk to promote their company and receive or review applications. Second, companies are invited to host a promotional event from the stage, where they can highlight their business and employment opportunities. Finally, companies are invited to post content to the digital career section of the EUROPEAN ROTORS website. Information on costs for each option and how to sign up are on the show's Career Day webpage.
A Show With Something For Everyone
Each day of the show also features unique themes, allowing organisers to highlight specific industry elements in full or half-day programmes. "We begin by sharing the exciting work of our host country," adds Müller. "The Spanish Day is a special full-day conference block coordinated by ATAIRE and will include best-practice presentations from some of Spain's most dynamic aviation companies with a main focus on HEMS, SAR and Fire Fighting." This full-day programme will occur on Stage 3.
Working to promote training and safety for all elements of the vertical flight industry, EUROPEAN ROTORS will provide opportunities for participants at every career level of the industry, from students to executives.
EUROPEAN ROTORS also presents a series of conference sessions where industry leaders and experts will feature the latest trends, innovations, and challenges within the rotorcraft sector.
The Rotor Safety Zone will also include a HEMS helicopter with daily hoist demos and a training helicopter for private pilots. Added this year is a special rig to conduct demonstrations on sling load operations. "No other show has offered such a rig so far. We will have lessons on safe human cargo as well as aerial work operations," says Dr. Frank Liemandt, EUROPEAN ROTORS Show Director.
Get Your Tickets Now
To better meet the complex needs of EUROPEAN ROTORS attendees, organisers offer various ticketing options, including special rates for businesses located in Spain. There are single-day passes for attendees of the EASA Rotorcraft and VTOL Symposium, which is on 27 November, so they can attend the show on the following day. Plus, single-day passes for all the 3 days of the show floor. There are also multiple-day ticket plans for people wanting to attend both the EASA Rotorcraft and VTOL Safety Symposium, and the EUROPEAN ROTORS 2023 show floor, or all three days that the exhibit floor is open.
Information about ticket options, exhibiting, and sponsorship opportunities at EUROPEAN ROTORS 2023 is available on the show's website: https://www.europeanrotors.eu/.
---
About EUROPEAN ROTORS
EUROPEAN ROTORS, the VTOL Show and Safety Conference, brings together every aspect of the rotorcraft industry in Europe. EHA and EASA have partnered to bring the helicopter industry the most significant trade event outside of the United States. With three parallel conference streams and dedicated areas for electric vertical takeoff and landing, autonomous operations, and other key future technologies, EUROPEAN ROTORS is already the go-to event for suppliers of helicopters, parts, services, and every other aspect of the industry.
---
Im Drones PR-Portal erscheinen Nachrichten und Meldungen von Unternehmen aus der Drone-Economy. Für die Inhalte der Pressemitteilungen sind die jeweiligen Unternehmen verantwortlich.
---
---