ANRA Launches SmartSkies SORA Risk Assessment Tool for its Expanding Portfolio, Closes Funding Round
LONDON – August 24, 2021 - ANRA Technologies UK Ltd, a leader in integrated airspace, mission management and delivery systems for uncrewed aircraft, today announced the release of SmartSkies SORA, a fully integrated Specified Operations Risk Assessment capability that enables pilots to perform a risk assessment for operations in the 'specific' category per European Union Aviation Safety Agency (EASA) regulations.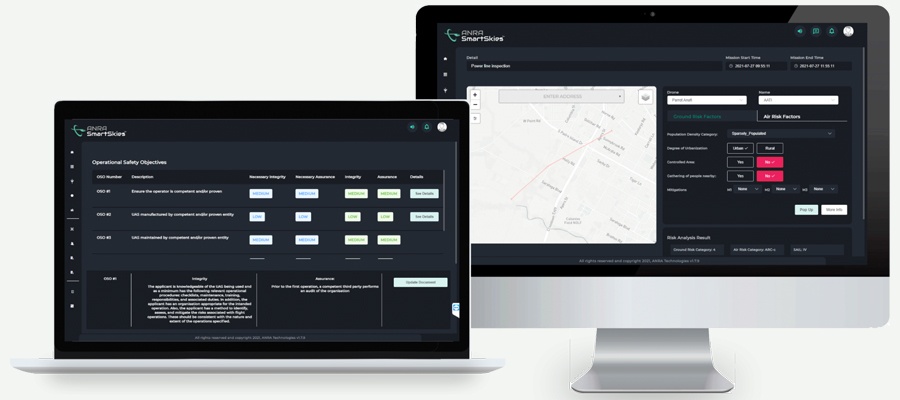 SmartSkies SORA software helps the pilot to assess if an operation can be safely conducted by answering a series of easy-to-follow questions about the flight. The tool is not expected to provide answers to all the challenges but leverages available data within our UAS Traffic Management platform in a structured manner to score and categorize ground and air risk factors. This enables the operator to have a more informed discussion with the regulator in regards to the proposed mission.
"SmartSkies SORA builds upon ANRA's legacy of delivering software solutions that enable complex, uncrewed aircraft operations. Combining SmartSkies SORA with our world-class UTM platform will assist the pilot and regulators in making informed decisions," stated Amit Ganjoo, Founder and CEO of ANRA Technologies.
Operators who wish to go beyond the limitations of the EASA Open category and desire to fly more complex operations will need to demonstrate appropriate mitigation to lower air and ground risk to acceptable levels. SmartSkies SORA will help develop the safety case to obtain approvals from authorities, and more importantly, provide operators with the information needed to make better decisions before launching.
SmartSkies SORA processes data for airspace classification, weather, NOTAMs, strategic conflicts, population and more. This integrated data is then presented to pilots, allowing them to select options to match their mission profile. Outputs include Specific Assurance and Integrity Levels (SAIL) and the robustness of operational safety objectives. SORA is an accepted means of compliance in the EASA and in the UK, a de-facto standard of risk assessment. It is accepted and widely recognized by national civil aviation authorities as a common methodology to assess risk.
ANRA recently closed a multi-million dollar funding round led by a consortium of global investors that will accelerate development and continued expansion of its software portfolio and grow its international team.
SmartSkies SORA is an example of how ANRA is moving forward with offering services and capabilities that provide high-value while lowering risk. We are pleased to offer SORA and with plenty of runway ahead of us, we are eager to help power the future of autonomous aviation.
---
About ANRA Technologies
ANRA Technologies, with offices in London, New Delhi, and Washington DC, is an international provider of airspace management solutions for unmanned aircraft operators and airspace managers. ANRA offers intelligent and modular traffic management software capabilities as part of the SmartSkies family for standards compliant UAS Traffic Management (UTM) and Urban Air Mobility (UAM) operations. For organizations that need an enterprise-class drone operations solution, we offer MissionManager, and for delivery solutions, we offer SmartSkies DELIVERY. Learn more by visiting www.flyanra.com.
---
Im Drones PR-Portal erscheinen Nachrichten und Meldungen von Unternehmen aus der Drone-Economy. Für die Inhalte der Pressemitteilungen sind die jeweiligen Unternehmen verantwortlich.
---
---