ANAVIA and SAIT are proud to announce Partnership Agreement
ANAVIA Switzerland and the Southern Institute of Technology (SAIT) represented by the Applied Research and Innovation Services (ARIS) through the Center of Innovation and Research in Unmanned Systems (CIRUS) in Calgary, Alberta, Canada are proud to announce their newly established Research & Development Partnership Agreement.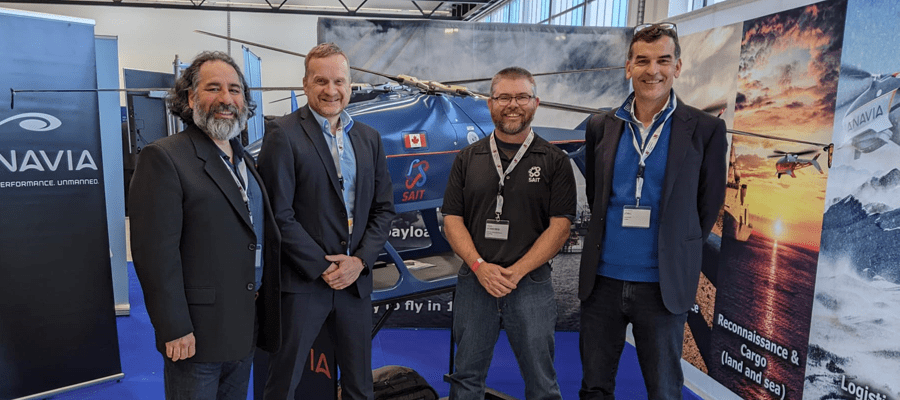 In collaboration with other RPAS manufacturers and aviation regulatory agencies in North America and Europe both will work towards the development of a Center of Excellence for testing and certification of heavy-duty long endurance unmanned aircrafts as well as the development of an Aviation Operation Certificate (AOC). This will include:
– Training of commercial drone pilots and maintenance crew for advanced long endurance RPAS systems
– Testing and certification of the airworthiness, operational manual (OM) and procedures and Specific Operations Risk Assessment (SORA) of the long endurance RPASs
– Testing, certification and integration of airborne sensors into RPAS platforms
– Developing certification protocols, BVLOS standard operational procedures, communication and risk assessment protocols and standards for Beyond Visual Line of Sight (BVLOS) in alignment with regulations of Transport Canada (TC), Swiss Federal Office of Civil Aviation (FOCA), European Union Aviation Safety Agency (EASA) and US Federal Aviation Agency (FAA).
"As one of the top 10 research colleges in Canada, The Applied Research and Innovation Services at SAIT is well position to be leaders in drone testing, training, certification and technology development. Working with our partners in Foremost Alberta, our ability to test and certify in this sector is a game changer and our School of Transportation is leading drone training in Canada. " Trish Josephs, Director of Applied Research and Innovation SAIT
"We are proud to announce our strategic partnership with SAIT/CIRUS.", stated Jon Andri Jörg, CEO and Founder ANAVIA. "We have always been driven to support scientific research and development for the advancement of ground-breaking RPAS manufacturing, testing and certification to ensure safe flight RPAS missions. SAIT/CIRUS's board aerospace expertise and research capabilities will help to further build on this mission and significantly contributing to our innovative platforms."
Johannes Krick, Global Sales Director of ANAVIA stated, "we are excited about this collaboration not only because we are now present in Canada with our HT-100, but also to work with SAIT's scientific and innovative team on new applications for RPAS. We see a great potential in the fields of artificial intelligence, disaster management and the automated transport of medical supplies to remote regions, just to name a few."
"The team at SAIT/CIRUS is proud and excited to use their expertise to develop a cutting-edge Center of Excellent in collaboration with ANAVIA in addition to aviation regulatory agencies and industry partners in manned aviation. This will support the professional application of RPAS benefitting different industries and society", said Shahab Moeini, Senior Lead Researcher and Operations Manager at SAIT/CIRUS.
---
Established in 1916, SAIT is a leader in applied education, serving 50,000 students annually through more than 100 career programs and 1,300 part-time courses. Action-based learning, solution-focused research, and enterprising collaborations with industry partners ensure SAIT students are career-ready when they graduate. SAIT's Center of Innovation and Research in Unmanned Systems (CIRUS) with an exceptional team of expert and applied knowledge is the most advanced unmanned systems research and development lab in north America.
ANAVIA specializes in the development, manufacturing and marketing of heavy payload vertical take-off and landing (VTOL) systems. The company enjoys a reputation as a groundbreaking innovation company bearing the "Made in Switzerland" seal as an emblem of uncompromising quality. ANAVIA was established in 2019 as a former business unit of the CONNOVA Group, a leading global manufacturer of lightweight aerospace carbon solutions. More information: www.anavia.eu
---
Im Drones PR-Portal erscheinen Nachrichten und Meldungen von Unternehmen aus der Drone-Economy. Für die Inhalte der Pressemitteilungen sind die jeweiligen Unternehmen verantwortlich.
---
---