Airwayz returns as driving force behind expanded pilot to operate multiple drone fleets in an urban airspace
Tel Aviv, Israel 29th June 2021 – After a successful initial phase, AI-based Multi-Flight System and Unmanned Traffic Management (UTM or "U-space") specialist Airwayz Drones Ltd, resumes its participation in a two-year pilot program, which will see multiple fleets of drones tested beyond any other scheme to validate the safe and efficient use of drones in urban environments. The second phase of the event will see an increased number of drones, operators, and the introduction of helicopters and other low-flying vehicles into the airspace.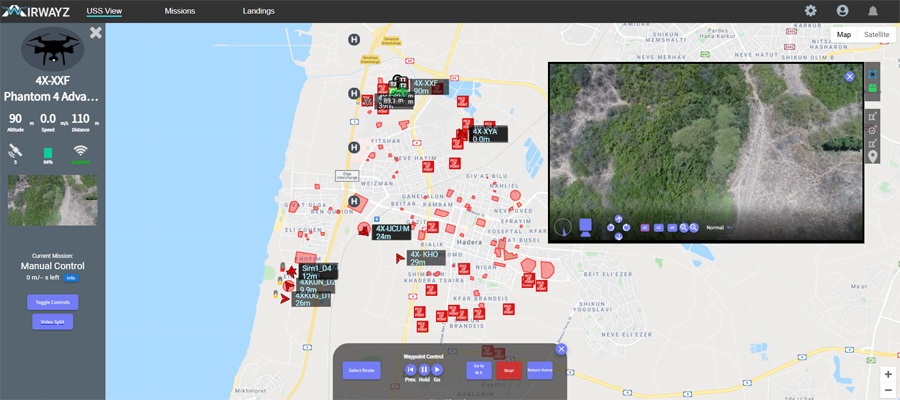 The NAAMA pilot program, organised by the Ayalon Highways Ltd., and Israel Innovation Authority in collaboration with the Ministry of Transport and the Prime Minister's Office, started in March 2021 and is now scaling up its operations with its next phase of testing. Phase two will see more than 50 drones from 8 different teams operate in one airspace in Hadera, Israel, doubling the number of fleets that participated in the first stage in March, as well as the inclusion of Emergency Services. A manned helicopter and other low-flying vehicles will also be integrated into the pilot programme to examine drone responses to foreign technology outside its fleet, and scrutinise the commercial viability of drone fleets in real-life environments.
"Testing the implementation of drone fleets in urban environments is integral to us as a business," says Eyal Zor, CEO and Co-Founder of Airwayz. "Continuing our involvement in this second phase of the pilot is crucial to us as we continue to disrupt the traditional perceptions of transport networks across the world. This time, with the increased number of drones and operators, and other real-life obstacles, we can really showcase the potential of drone technology as an extremely valuable and safe method for applications in delivery, inspection, surveillance and much more."
Airwayz' unique UTM technology will be coordinating all the USS systems at the event exclusively, whilst 50 percent of the drone operators will use Airwayz' USS flight software, which enables fully autonomous operation for users across multiple drones through the use of AI (Artificial Intelligence). The drones will continue to operate across a large airspace of 4 mi2, rather than along a corridor as seen previously, including the use of a counter-drones radar system to find unauthorized drones that may disrupt the progress of journeys.
"We are proud to have been chosen as the sole UTM provider for the second stage of the NAAMA pilot scheme and look forward to demonstrating to the world how feasible drone fleets are using our incredible software. Our AI technology has been developed to enable safe and efficient drone usage in the real-world and with its intelligent automation and machine learning, obstacles can be investigated and avoided accordingly to the aim of each and every unique mission. We are also thrilled to involve the Emergency Services at this stage, moving the pilot scheme beyond delivery applications, to present yet more scenarios with the potential to bring significant, positive benefits to people through the use of drones in everyday life," adds Zor.
Airwayz' unmatched flight system and UTM platforms feature AI functions such as advanced mission planning, remote control and multiple autonomous flight modes. Airwayz technology has also succeeded as the first in the industry to learn the dynamic environment using artificial intelligence – the reason Airwayz UTM can manage multiple drone fleets so successfully. The technology allows operators to share flight information and enables operational coordination for fleets of drones undertaking a range of tasks, expanding the remit of the NAAMA project and its potential to be the facilitator of change in drone regulation.
Dr. Ami Appelbaum, Chairman of the Israel Innovation Authority, adds: "We were delighted with the progress made in the initial stage of the pilot scheme and we're glad to see Airwayz returning for the second phase. Establishing regulation is a priority for the Israel Innovation Authority and the NAAMA pilot event is key to creating enabling regulation to support the implementation of innovative technologies in our daily lives."
---
About Airwayz
Airwayz delivers multi-platform software for the control, management, and automation of drone fleet management for various types of missions. The solution uses a cloud-based network and decentralized swarm technology to share all flight information and enable operational coordination in real time.
The Airwayz system offers several AI-based features such as multiple autonomous flight modes, advanced mission planning, remote control, and hive mode to help organizations maximize the operational potential of drones.
---
Im Drones PR-Portal erscheinen Nachrichten und Meldungen von Unternehmen aus der Drone-Economy. Für die Inhalte der Pressemitteilungen sind die jeweiligen Unternehmen verantwortlich.
---
---